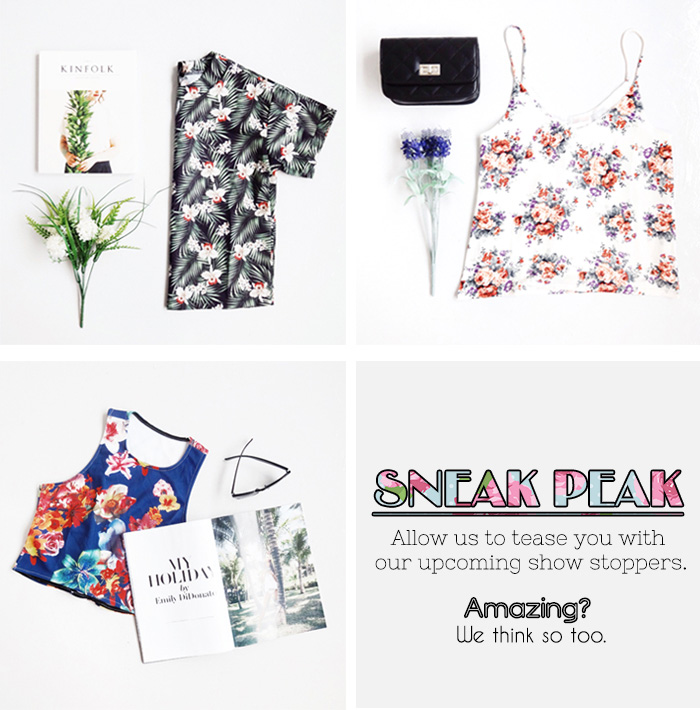 Can't access our site? Not sure what's going on??? Well, hold your horses, cause we'll be unveiling a new site this July!
Our team has been really hard at work the past 2 months, from planning the look of the new site, to securing sponsorships for our launch - there's so much we want to tell you right now, but that has to wait. What can we say, we like to keep you guessing ;) And while we await the unveil of our new site, allow us to look back on the year, say thanks to the people who have helped us along the way, and give you a preview of some of the outfits that will be released on the 7th of July.
2014 has been an amazing year for Ellysage. For starters, we launched our very first manufactured series in January. You can't imagine the satisfaction we got from looking through pictures of happy customers in our manufactured pieces, knowing that the effort we put into designing the outfit, choosing the fabrics, and all the time spent at the factories ensuring that quality standards were met, paid off.
In April, we moved into our new office at Bukit Batok. If not for the unwavering support from our team, we couldn't have shifted all our stocks, equipment, plus set up our own in-house studio at our new office. A shout out to Joey, Si Min, and Milissa for all the work that you guys put in - without you, we definitely wouldn't be here today. And for our readers, it's a huge milestone for us to finally have our own studio. Gone are the days of having to travel to the East for photo-shoots - imagine the horror of forgetting a pair of shoes, it's simply not possible to travel back to retrieve it!
After moving into our new office, we felt like it was time to revamp our site. Our previous design has been with us for close to 2 years now, and we decided that we wanted something new, clean, and fresh! Our new site will no longer be black and white, rather, we will be introducing a new color palette (pink and blue!). We will also not be launching new styles daily anymore. Instead, we will be launching a bigger selection every Sunday, with more style direction than before. We just finished editing all our photos and we really can't wait to show you guys everything! The anticipation is killing us!
Our office now feels like home to us, and we have very gladly hosted a couple of bloggers -
Beixin
,
Brenda
,
Dora
, and
Jocina
. These lovely girls have graciously traveled down to our office to meet us, pick outfits, and collect items for a *secret* collaboration (to be unveiled on 7th July)! So in a little more than a week's time, don't forget to check out their blogs to find out more!
Okay, after all that talking (typing?), what's next for Ellysage? Here's a teaser - collaborations, promotions, and giveaways! Together with the launch of our new site, we will be using new custom-made polymailers, distributing exclusive discount vouchers, and collecting more customer feedback to improve our operations. We also will be giving away gifts from 2 amazing sponsors (guess who! We will be leaking photos on Instagram!). And in true Ellysage style, every order will definitely receive a little gift! We will also be holding contests on Facebook and Instagram, so do check back constantly! We know it's a little overwhelming (we were going for that), but hang in there and remember to grace our unveil on the 7th of July! Till then!